Join Indian Army:  How to Register Online at www.joinindianarmy.nic.in – a Step by Step Guide/Tutorial
In this article we will explain you how to register online at www.joinindianarmy.nic.in to Join Indian Army Recruitment successfully.
The Online Registration and Login at www.joinindianarmy.nic.in enable you to apply online for Indian Army Jobs Vacancies.
In these days, Indian Army most of the times recruits through Online process. And, this method is applied for generally two types of hiring:
Indian Army Bharti/Rally Registration.
Indian Army Recruitment Registration.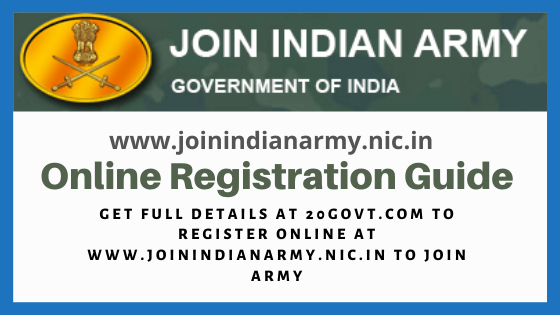 Indian Army conducts Rallies/Bharti across the country twice a year. In this way candidates are called to the rally place at a pre specified time and they have to go through Physical and medical test first. And, then the selected candidates have to go through a written exam known as CEE (Common Entrance Examination).
For the second type of hiring, Indian Army publishes employment notifications for recruiting all kinds of positions except for Rally/Selection and Open Bharti. In this way they recruit for all kinds of different positions for different branches of Indian Army.
Anyways, to join Indian Army you must be very well aware about its official recruitment portal which is www.joinindianarmy.nic.in
To apply online for any kinds of Indian Army recruitment you will first have to signup or register online at www.joinindianarmy.nic.in. After the successful signup/registration you get login id and password for applying to the vacant positions according to your choice.
So, there are mainly the three steps you need to follow to apply online for joining army:
Online registration or Signup at www.joinindianarmy.nic.in
Logging and then applying to the appropriate recruitment successfully by filling in the application form with all the required details.
Downloading Admit card/call letter using your login Id and Password for www.joinindianarmy.nic.in
Indian Army Online Registration: Steps to Follow
↓
Go to www.joinindianarmy.nic.in
↓
Click on Apply / Login link in JCO/OR enrolment.
↓
Click on Registration
↓
Click on Continue
↓
Fill up details
↓
Save
↓
Under Already registration Enter Login details
↓
Login
↓
Dashboard Opens
↓
Click Apply on Category You are Eligible
↓
Read Instruction Continue
↓
Fill in Personal information Save & Continue
↓
Enter Communication Details Save & Continue
↓
Enter Non Dispensation / Sports /NCC Details Save & Continue
↓
Enter Education Details Add
↓
Click on the Add Education certificate & Enter Marks of all Subjects
↓
Continue Enter Marks of All Subjects Continue
↓
Now you can see Summary of Your Information
↓
Submit Now
↓
Successful submission of application
↓
Roll No is Generated by system
↓
Login 10-15 Days Prior to 1st day of the Rally to Download & Print Admit Card
A Full Pdf Guide on How to Register at www.joinindianarmy.nic.in to Apply Online for Army Jobs
Screenshots and Details that you should read fully at least for once:
Download or Read This PDF File on your device anytime offline
A Full Step by Step Guide PDF to Register Online at www.joinindianarmy.nic.in to Apply for Army Jobs
Daily Job Alert for Indian Army Recruitment 2021 in India this Week:
Visit here for all latest and upcoming Defence Jobs in India for 2021-22