Indian Army Jobs 2023: Employment News, Jobs Notification for Careers in Various Defence Organizations and Military Departments of Indian Army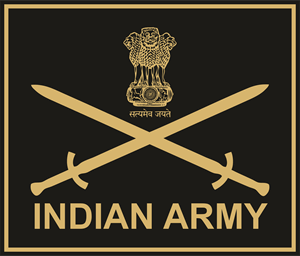 We at 20Govt.com regularly publish job notifications from Indian Army and the response of the candidates make us feel overwhelmed and proud of our Indian Army military services. We have decided to publish various articles based on the basic information about our Indian Army and defence services for the candidates who are interested in applying for Indian Army Bharti.
Joining Indian army is a dream that millions of Indian youth want to fulfill to serve the nation and its people. Such candidates are requested to subscribe our free job alerts here for Indian Army Jobs. [ Visit here to Join Indian Army and here for Defence Recruitment Vacancies] find here Ministry of Defence latest vacancies
Indian Army comes under the Ministry of Defence in the government of India. Indian Army is one of the three main parts of the Indian defence department.
Indian Army
Indian navy
Indian Air Force
Like other departments and forces, Indian Army is also further divided in other forms and types. For example, Border Security Force, ITBP, Territorial Army, etc also come under Indian Army and they are Integral parts and work together in coordination in the time of need.
Indian Army Forces are headed by Chief of the Army Staff.  The Indian Army is divided and managed further into various units as given below:
Army Corps (Largest unit in Army)
Division
Brigade
Battalion
Rifle Company
Platoon
Section (smallest unit in Army)
Indian Army Organization:
The Armoured Corps
The Regiment of Artillery
Army Air Defence
Army Aviation Corps
The Corps of Signals
Mechanised Infantry
Infantry
Army Ordnance Corps
Remount And Veterinary Corps
Military Farms Services
Corps of Military Police
Pioneer Corps
Army Postal Service Corps
Defence Security Corps
Indian Army Zonal Recruitment Offices List:
Indian Army has established 13 major recruitment zones which they call "Zonal Recruitment Office" or ZRO. Please find below the list of such ZROs as given below:
| | |
| --- | --- |
| Serial No. | ZRO Name: |
| 1. | Ambala |
| 2. | Bangalore |
| 3. | Chennai |
| 4. | Danapur |
| 5. | Jabalpur |
| 6. | Jaipur |
| 7. | Jalandhar |
| 8. | Kolkata |
| 9. | Lucknow |
| 10. | Pune |
| 11. | Shillong |
| 12. | GRD Kunraghat Gorakhpur |
| 13. | IRO Delhi Cantt |
Latest Recruitment Vacancies To apply Online for Jobs in Indian Army and Military/Defence Services:
Defence Recruitment, Indian Air Force Recruitment, Indian Army Recruitment, Indian Army, Air Force (IAF) Open Rally Bharti, Indian Coast Guard, Ministry of Defence Recruitment Vacancies
Indian Army Jobs: Latest Employment and Career News to Apply Online for Army Jobs
Indian Army- One of the 3 Defence Services, comes under the Ministry of Defence -one of the central govt departments. Indian Army recruits time to time for various job positions, like Soldier (GD/Technical), Officer, Tradesmen, Sepoy, MSW (Multi Skilled Workers), Clerk, Technician, etc. Indian Army offers employment opportunities for freshers and experienced candidates under central government of India. Visit here for Ministry of Defence Recruitment
Apply Online for Latest Recruitment Vacancies in Indian Army under Ministry of Defence (MoD)
Like most of the other Central Govt departments, Indian Army also have made their hiring and recruitment process online. So, to apply for latest recruitment vacancies in Indian Army, you will have to apply online if there is an ongoing recruitment process for that. Though, for some positions in some departments you need to send your applications.
For this, you need to be aware about the employment notifications from Indian Army which they publish at their official website-www.joinindianarmy.nic.in. Once you get the job alert, you can easily apply online for the Indian Army Career and Employment Opportunity in defence department.
We provide you the right links for applying online, so that you don't need to bother about the right Information at the right time. We also attach official notification PDF from Indian Army website as well which you can read carefully and check the important points.
Visit 20Govt.com for Latest Defence Job Notification 2023 for Indian Army Recruitment
For many candidates it becomes difficult to understand everything from the original official notification from www.joinindianarmy.nic.in for the Indian Army Recruitment. In this case the role of our website becomes important because we provide them all the information in easy to understand way so that they can grasp every details and apply successfully to the ongoing recruitment.
Moreover, we also have comment section on every employment news notification we publish on our site- www.20Govt.com. The candidates may ask anything related to the recruitment if they have any doubt.
20Govt.com- Free Job Alert 2023–24 for Indian Army Recruitment
You should subscribe our Central Govt job portal to stay updated for latest career and Employment News for Indian Army.
Get latest job notification at the right time so that you may apply for jobs in Indian Army recruitment before the last date. We keep an eye on Indian Army recruitment notifications so that you can get job alerts at the correct time.
Never miss an update from Indian Army recruitment board! It offers great job opportunity for the govt job aspirants from all over the India.
The Job Alert Service is completely Free and it offers you spam free email notifications. The Job alerts are specifically designed for Indian Army. You wont get emails for any other types of recruitment notifications.
So, if you want to get latest Job alerts for Indian Army then subscribe our email notification service. Above all, it is free and it sends no spam, promotional or harmful emails.
Educational Qualifications/Eligibility Criteria for Indian Army Jobs for 2023–24
Like any other recruitment and jobs, eligibility criteria may differ as per the job requirements and desired skills to fulfill the vacancies at a given time. Generally for entry level, the minimum required qualifications are 8th, 10th and 12th pass (Higher secondary ). For middle level at least a graduation is required while for higher positions the required qualification may be a PG degree. For other profile, a diploma/degree needed in a technical field. For eg- Engineering, MBA, BCA, MCA, ITI, etc.
Salary range: Monthly Salary* Range goes from Rs 22000 to Rs 32000 for a basic job position.
*This is a very rough estimation. Please check a particular job notification to know the correct salary for a particular profile.
Indian Army Address:
Additional Directorate General of Recruiting, RTG-6, AG's Branch, West Block – III, RK Puram
New Delhi – 110066
Indian Army Recruitment Official Website: https://www.joinindianarmy.nic.in
Army Delhi Contact Details for recruitment:
Telephone No
(a) For Officers' entry: (011) 26173215, – 26175473, – 26100487, – 26196220
(b) For Junior Commissioned Officer's/Other Ranks entry – (011)26175471
(c) Timings – 2.00 pm to 5.00 pm
(d)E-mail – dir-recruiting6-mod [at] nic.in