NHM Recruitment 2023: Latest National Health Mission Jobs Vacancies across India.
The National Health Mission (NHM) is a healthcare related initiative by central govt of India under the MoHFW and it was launched in 2013. It has nationwide presence and it is based on to provide health and wellness support to under-privileged Indian citizens.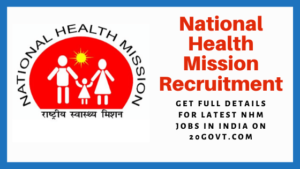 NHM comes under the Ministry of Health & Family Welfare, Government of India. It was started in 2005 to provide health care services to the poor and unprivileged population of the nation.
So, you may expect good number of hiring and recruitment vacancies from NHM departments in the country. They mainly recruit for health and medical related staff and also for non-medical staff to support its operations.
You may apply for various kinds of Health and Medical Vacancies in different NHM centers in India. Get here most of the All Job Notification for NHM Recruitment 2023 from nhm.gov.in.
Who can apply for NMH Jobs? The common job qualifications that are required to apply for NHM vacancies time to time: 10+2, 12th Pass plus DMLT, Graduation, D.Pharm/B.Pharm, BAMS, MS, MS/DCHS/DNB/DA/MS, DM, MBBS, GNM/B.Sc Nursing Course, and BUMS/ MSCIT.
Monthly Salary and Payout: The salary offered in NHM organizations for the basic level profile, generally comes in the range of Rs 14500 to Rs 27500
NHM is comprised of two sub-departments:
National Rural Health Mission (NRHM), and the National Urban Health Mission (NUHM).
We, at 20govt.com are committed to provide you with the latest information on job opportunities available in all the NHMs across India.
NHM mostly recruits for health and medical related staff. It has a wide network of health and care services across the country. So, you may expect frequent job notification from NHM recruitment cell.
Apply for the Latest NHM recruitment from this notification on or before the last date as given in the documents.
NHM Recruitment 2023: Latest & Upcoming NHM Jobs for Medical & Non-Medical Vacancies in India
You will find here all the latest and upcoming Employment News in National Health Mission departments across India for various Medical, Paramedical & Non-Medical vacancies.
Find here list of Medical Jobs in NHMs, such as: Medical Officer, Staff Nurse, Lab Technician, Doctor, Pharmacist, GDMO (General Duty Medical Officer), Nursing Assistant, etc. And, don't forget to checkout all the free job alert 2023 for this week at a glance!
NHM Latest Jobs Vacancy 2023: Apply Online here:

NHM Trivandrum Recruitment 2023 for Paramedical Jobs in Kerala State for 04 vacancies of Dental Mechanic, RBSK Coordinator, Social Worker, and Audiologist (NPPCD) | 10+2 plus Diploma| MSc Nursing | Masters in Social Work (MSW) | BASLP | Freshers. Last Date to Apply- 23/Sep/2023

NHM Thrissur Recruitment 2023 for Medical Officer Jobs in Kerala State for MBBS Freshers. Last Date to Apply- 18/Sep/2023

NHM Recruitment 2023 for Gynaecologist, Radiologist, Paediatrician Jobs against 09 vacancies through walkin recruitment for MBBS Degree with MD/DNB in the concerned discipline. Last date to Apply- 06/Sep/2023

Jharkhand Rural Health Mission Recruitment 2023 for 1072 Vacancies for RBSK AYUSH Medical Officer, AYUSH Medical Officer, Panchkarm AYUSH MO (Male & female), Panchkarma AYUSH Technician. | BAMS, BAMS/GAMS | Last Date to Apply – 05/Sep/2023

WBSHFWS Recruitment 2023 for Coordinator Jobs in West Bengal Health Department for 02 Vacancies for Diploma/degree in Health Education/ Mass Communication, Masters Degree in Social Work/ Rural Development/ Social Science | Last date to Apply- 26/Aug/2023

Rural Health Mission Society Recruitment 2023 for 171 Medical, paramedical vacancies in Jharkhand State for Specialist Medical Officer, Radiologist, Haematologist, Medical Officer positions for MBBS, Gynecology and obstetrics/ Surgeon/Ophthalmology/ Orthopedics/ Medicine / Dermatology, Radiology, Hematology | Last date to Apply- 14/Aug/2023

NHM Recruitment Board:

Last date to Apply:

NHM Jharkhand Recruitment 2023 for ANM, Staff Nurse, Block Data Manager
04th Jan 2023
NHM J&K Recruitment 2023

Cardiologist(01)
Medical Officer(02)

30th Dec 2022
WBHRB NHM Jobs 2023 for 750 General Duty Medical Officer(GDMO) Bharti
23rd Dec 2022
NHM Kerala Jobs 2023 for Epidemiologist (IDSP)
19th Dec 2022
NHM MP Microbiologist Recruitment Vacancy 2023 :
19th Dec 2022
NHM UP Medical Officer Recruitment 2023 | Apply for direct walkin interview for Medical Officer Jobs for 108 Vacancies for freshers for all across the state. MBBS apply

16-17th Dec 2022
DHFWS Chandigarh Jobs 2023 for House Surgeon

88 Vacancies in DHFWS Chandigarh, Punjab


15th Dec 2022
NHM Chandigarh Recruitment 2023 for House Surgeons Jobs in Chandigarh; 37 vacancies for freshers; MBBS Degree holders apply for walkin interview.

15th Dec 2022
NHM MP Contractual Women Health Worker Recruitment Vacancy 2023 :

Apply for 1200 jobs in NHM M.P for 12th pass freshers for woman health worker vacancies across Madhya Pradesh

12th Dec 2022

NHM Chhattisgarh Recruitment 2023: Apply for latest NHM jobs in Chh:

Sr. Nursing Officer (Psychiatric Nurse): 01
01
Psychologist (NMHP): 01
Nursing Office: 03
Physiotherapist: 01
Audiologist: 02
Tech Assistant Hearing impaired Children (NPPCD): 02
ANM (RBSK+NHM) 05
Health & Wellness Center Assistant: 01
Health & Wellness Center Assistant(computer Grad): 01
Medical Officers (RBSK) 02
No. of the total vacancies: 17 (UR=11, SC/ ST=5, OBC=1, Ex-Serviceman=0, Female=01)

05/April/2022
NHM Odisha Recruitment 2023 | Apply online for Data Assistant and Accountant jobs for 06 vacancies in National Health Mission Odisha/Orissa under MoHFW
05/April/2022
NHM Mizoram Recruitment 2023 | Apply for 09 MTS, Zonal Entomologist Job Vacancies
Update Soon
NHM/NRHM Arunachal Pradesh Recruitment 2023: Apply for Medical officer Jobs for 02 vacancies trough walkin. 

Update once New Vacancy comes in
Important Recruitment Notifications related to NHM/NRHM in Healthcare and Medical sector:
NHM City wise Jobs in India: