Postal Circle and Post Office Jobs in India. Apply Online for Dak Vibhag Vacancy. India Post Office Recruitment 2020-21.
The Indian Postal circle has Recruitment going on in for many states in India for 2020 for GDS (Gramin Dak Sevak), Postmen, Mail Guard, Clerk, BPM, Multi Tasking Staff (MTS), ABPM, Peon, Post Master, Postal Assistant, etc. India Post Recruitment 2020-21 is for Assam, Bihar, Gujarat, Karnataka, Kerala, Punjab, Gujarat, and West Bengal States. Now, the Indian Postal Circle has come up with Post office jobs in Assam, Gujarat, and WB postal circles for 10th 12th pass candidates.
If you are interesting in Post Office Jobs in Indian government then you may visit this page again as we publish here all types of Post Office Recruitments from India Post department (Department of Posts or DoP) under the government of India.
You may apply online (www.appost.in/gdsonline) for Indian Post Office or Dak Vibhag Current Vacancies as per your qualification and eligibility to get a govt job in India Post department. Apart from GDS, you may also find here Mail Motor Service jobs as well since they also come under Indian Postal Department. So, visit the below given links and if you find any active job then you may apply for it online.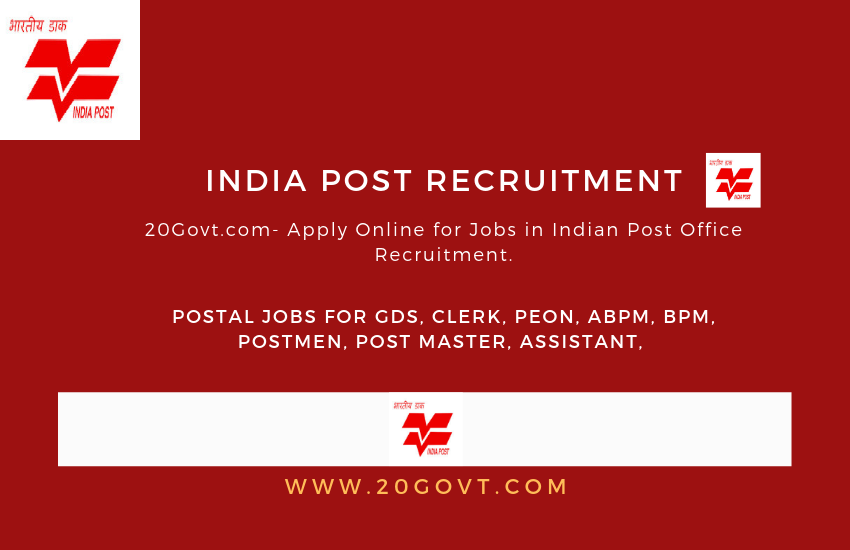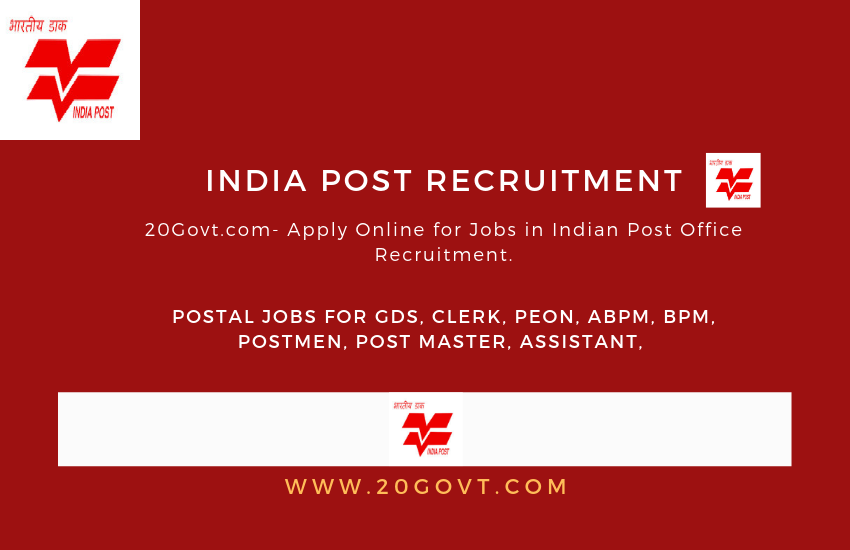 India Post (Ministry of Communications): Department of Posts (DoP). GDS Online Engagement.
[This employment News Notification is for Jobs in Department of Posts, Ministry of Communications, Government of India.]
---
Indian Postal Circle Recruitment 2020- State-wise Post Office Jobs on 20Govt.com
Govt job aspirants find here Indian Postal Service Recruitment Jobs Vacancies. You will find here links of the State Wise Govt jobs for latest  Post Office Recruitment. This is the best online place to find Latest & Upcoming Post Office Recruitment 2019-2020. There are more than 1000 active job vacancies in Indian Postal Service.
Get Sarkari Naukri in Post Office for the year 2020-2021. The Last date of applying online for India Post Office Jobs will be different for different post circles. The registration to submit fee and application online has already started on for 2020.
The salary is in the range of Rs 10000-Rs 12000 for most of the current recruitment going on in Indian Postal Services.
Get Admit Card & Result for Indian Postal Circle Jobs 2020
How to Apply Online for Jobs in Indian Postal Service (Dak Vibhag)?
If you want to apply for latest jobs in Indian Postal Circle then it is a very easy process and takes only three steps.
Registration:

This is the very first step towards the process of applying for the vacancies in Indian Postal Services. It is a very easy process to register on India Post. Just fillin the details required and you will be registered on India Post Website and get a unique registration number. If you face any difficulty in registering on IndiaPost website, just follow the FAQ for registration on India Post

Fee Payment:

UR/OBC/EWS Male need to make fee payment. You can also make Payment Offline. For this you need to submit fee payment at any Head Post Office. The registration fee in most of the postal circle recruitment is not charged for SC/ST and female candidates.

Apply Online:

  This is the final step in the process of applying online for job vacancies in Indian Postal Services. And, this step involves 3 steps in all. The Step 1 is: Filling the Application. The Step 2 is: Uploading documents. The Step 3 is: Submitting Post preferences. Preview and take the print out copy.
Completion of the above three steps will only be treated as submission of application!
The Types of Job positions or Job profiles available in India Post ( Indian Post offices, Postal Services)
Postal Assistants, Savings Bank Control- Internal Check Organizations
Postal Assistants in Circle Office and Regional Offices
Lower Selection Grade Posts
Stenographers (Grade 'D' and Grade-II)
Senior PS and Private Secretary
Junior (Jr.) and Senior (Sr.) Hindi Translators
Hindi Typist
Postman-Village Postman and Mail Guard
Indian Postal Service Group 'A'
Artist
Inspector of Post offices
Selection Grade Posts
Postal Service Group 'B'
Postmaster Cadres
Dear Jobs Seekers,
Welcome on 20govt.com. We are happy to help you to find Post office vacancies in All over India. We have mentioned here all the New Postal Circle Recruitment 2019-2020. Candidate can find here State Wise Postal Circle Recruitment. We have mentioned Current Post office Jobs vacancies in the below table.
The current vacancies are active for 3 states: Andhra Pradesh, Chhattisgarh and Telangana circles. For the Indian Postal Office recruitment Bharti for other states you should check this notification in future.  
Candidates who wants to get Upcoming Post Office Jobs vacancies Alert. They can subscribe our Web portal by Email & You can also bookmarks this page by using Control+D Short Key for Post Office Recruitment Page.