High Court Recruitment 2021 for Jobs and Vacancies in All High Courts of India. Get latest and upcoming Employment News and Jobs Notifications for High Court Vacancy 2021-22. Apply here for New vacancies in High Courts in India. Find current Job alert for High Court Jobs in all state governments in India.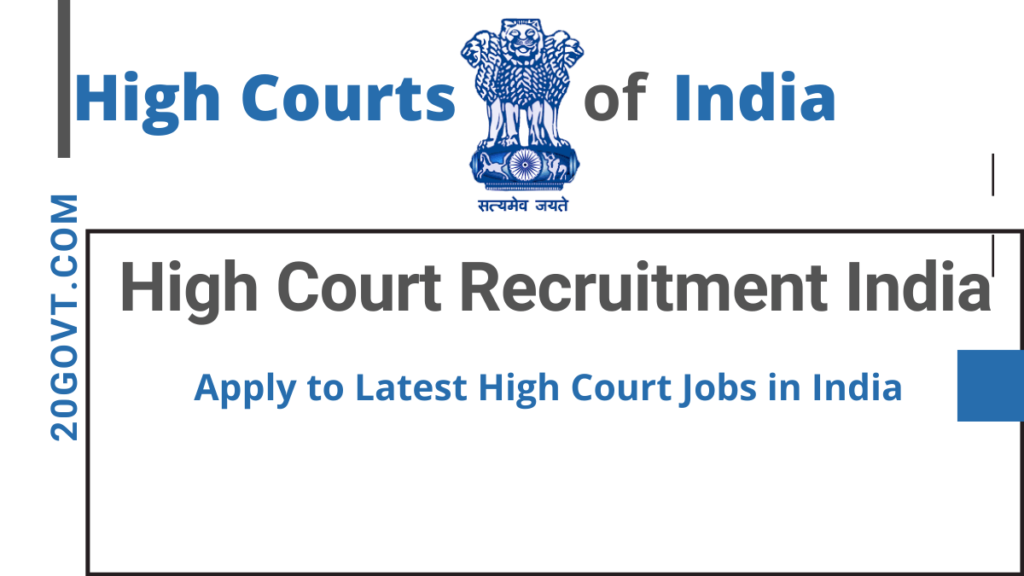 Here, on 20govt.com and its network sites, you will get here High Court Employment News and High Court Jobs Notifications for all kinds of vacancies, such as legal jobs, law vacancy, judicial positions, non legal vacancy, court help and support staff bharti, etc.
High Court Recruitments in India are open for all candidates: freshers and experienced, male and female candidates. You may notice here High Court (HC) jobs based on your educational qualifications and work experience. This is a Special and super space for getting fast and speedy News for all High Court Jobs and Vacancies in the country for 2021-22.
Salary Range: Basic monthly salary for High court vacancies varies as per locations and job profile. The salary range would be from Rs 16500 to Rs 27800*
*-Rough estimation. Please check a particular job notification to know the exact salary and other incentives and perks for a profile.
We will provide you with the information as per your qualifications, related to every recruitments going on in all of the high courts of India. Such as:
High Court Recruitment for 5th pass, 8th, 10th or Matriculation, High School pass, Higher Secondary, Intermediate, 10+2 or 12th pass, Under-graduates, graduates, diploma and degree holders, Freshers, Commerce, B.com, M.Com, Law degree, LLB, LLM, social science, and jobs by qualifications as mentioned here. 
---
You may want to check more government jobs 2021 in various govt Sectors in India and for all state wise jobs in government of India you should visit here to get all the latest jobs notifications and Employment News about State Govt Vacancy going on in different Departments of the State Governments of the nation. Apart from High Court Department, you may find other government job alert 2021 by visiting the link.

Related Job: District Court Jobs and Recruitment in India for jobs in all district courts.
---
We will provide you information for every recruitments in all of the high courts of India. Such as:
High Court Recruitment for Civil Judge, Clerks, Copyist, Typist, Translator, Law Clerks, Private Secretary, Stenographer, Steno Typist, Amen, Judicial Assistant, Junior Judicial Assistant (JJA),  Research Assistants, Legal Researchers, Peon, Safaiwala, Gardner, Process Server, Drivers, Cook, Attendants, and other 4th Grade Employees. 
High Court Recruitment 2021-22: Employment News Notifications for all Latest Jobs Vacancies in High Courts in India:
You will find below a listing of all High Court Jobs for which the recruitment is still open and you may apply. Apply here to latest high court jobs in India from ecourts.gov.in.
| | |
| --- | --- |
| Open Positions: | 30+ Total Active Jobs by 30th June 2021 |
Find Latest and Upcoming High Court Jobs Notifications 2021 and apply according to your eligibility and aptitude:

Name of the Recruitment Name, Post names, Number of vacancies and qualifications required:

Last date to Apply:

Delhi High Court Recruitment 2021: Common Assistant Accounts Officer (Civil) Vacancy for experienced govt employees in the relevant field. Check notification for all details about DHC Recruitment.
30.07.2021
Kerala High Court Recruitment 2021 – Apply Online for Assistant Jobs for 55 Vacant Posts in the High Court of Kerala for

Assistant

–Bachelor Degree with at least 55% marks OR Master Degree OR Law Degree.
28.07.2021
MP High Court Recruitment 2021 – Apply Online for District Legal Aid Officer Class II 14 Vacancy for law graduate
24/07/2021
Andhra High Court Recruitment 2021–

Apply for 25 Jobs for Court Master &

Personal Secretary vacancies for Degree Holders (Arts/ Science/ Commerce).
21/07/2021

Gujarat High Court Recruitment 2021

Apply Online for

Private Secretary

Jobs. Vacancy for Graduate.

15/07/2021
Gauhati High Court Recruitment 2021: Apply Online for 22 Grade-III Assam Judicial Service Jobs for Degree in Law
28.06.2021
Madras High Court Recruitment 2021 | There are a total of 3557 Vacancies in madras High Court for the following posts: Office Assistant(1911), Office Assistant cum full-time Watchman (01), Copyist Attender(03), Sanitary Worker (110), Scavenger (06) Scavenger /Sweeper (17), Scavenger /Sanitary Worker (01), Gardener (28), Watchman (496), Night watchman (185), Night watchman cum Masalchi (108), watchman cum Masalchi (15), Sweeper (189), Sweeper/ Scavenger (01), Waterman & Waterwomen (01), and Masalchi (485)
06th June 2021
Karnataka High Court Jobs Vacancy 2021 – Latest Jobs in Karnataka High court Bangalore for Law Clerks-cum-Research Assistants Posts for 19 Vacancies for Law Degree Holders.
29th May 2021

Bombay High Court Recruitment 2021 : Apply for BHC Jobs for 40 Vacancy for System Officer & Senior System Officers. Freshers and Experienced candidates apply Online.

B.E./B.Tech in Computer Science / Engineering or Information Technology or Electronic Engineering. Must possess Network Certifications.

27th May 2021
Jammu Kashmir High Court Recruitment 2021: Apply for Readers Jobs for 04 vacancy for Law Graduates in Srinagar High Court in J&K.
25.05.2021
Odisha High Court Recruitment 2021 | Apply for District Judge Jobs for 21 Vacancy for Retired Officers.
19th May 2021
Meghalaya High Court Recruitment 2021 Apply Online for Stenographer Grade I Jobs. Vacancy for Bachelor Degree with Diploma in Stenography in English with min speed of 100 wpm in shorthand and 40 wpm in computer typing.
07.05.2021
Gauhati High Court Recruitment 2021 Apply Online for 32 Technical Assistant, Computer Assistant & Stenographer Grade II/III Job Vacancies in Guwahati HC, Assam government. Bachelor Degree and have certificate / Diploma in Computer qualification apply.
04.05.2021
Tripura High Court Recruitment 2021 — Apply Online for Grade-III Jobs for 13 Vacancies in Tripura High Court in Agartala, the capital city.
30th April 2021
Rajasthan High Court Jodhpur District Judge Recruitment 2021 | Apply for Cadre of District Judge Jobs and Apply for District Judge Jobs for Bachelor of Law, Law Degree, law Graduates vacancies for a total of 85 posts.
01.04.2021

MP High Court Law Clerk Recruitment 2021

  – Apply Online for Law Clerk Jobs for 32 vacancies in Jabalpur High Court for the candidates who are at least a law graduate. Apply Online now!
18th March 2021
Gauhati High Court Recruitment 2021   Apply for Driver and Sanitation Attendant Jobs for 02 Vacancy in Guwahati in Gauhati HC for VIII standard (Minimum 8th class with a valid driving license (LMV)
15th March 2021
Karnataka High Court Recruitment Vacancy for Law Clerks cum Research Assistants Jobs for 33 Vacancies in Bangalore for the ones who hold a Degree in Law granted by a recognized University established by Law in India with a minimum aggregate of 50% marks.
Awaining New Notice
Himachal Pradesh High Court Recruitment -Apply Online for Junior Scale Stenographer Class-III Jobs for 02 vacancies in Shimla for any graduates.
Awaiting New Notice

 

 
High Courts of India: an Introduction
The high courts of India are the principal civil courts of original jurisdiction in each state and union territory. The Calcutta High Court is the oldest high court in the country, established on 2 July 1862.
Each state is divided into judicial districts presided over by a district and sessions judge. He is known as district judge when he presides over a civil case, and session's judge when he presides over a criminal case. He is the highest judicial authority below a high court judge.
Judges in a high court are appointed by the President of India in consultation with the Chief Justice of India and the governor of the state. High courts are headed by a chief justice. The chief justices rank fourteenth (within their respective states) and seventeenth (outside their respective states) on the Indian order of precedence.
The buildings of Bombay High Court and Punjab and Haryana High Court are UNESCO World Heritage Sites.
The Madras High Court in Chennai, Bombay High Court in Mumbai, Calcutta High Court in Kolkata and Allahabad High Court in Prayagraj are the oldest four high courts in India. There are a total of 25 High courts in India.
Name of the High Courts in India which have more than one area of Jurisdiction:
Bombay (Mumbai) High Court is for Jurisdiction for the following: Goa, Dadra and Nagar Haveli and Daman and Diu, Maharashtra
Calcutta (Kolkata) High Court is for Jurisdiction for the following: Andaman and Nicobar Islands, West Bengal
Gauhati High Court is for Jurisdiction for the following: Arunachal Pradesh, Assam, Mizoram, Nagaland.
Jammu and Kashmir High Court is for Jurisdiction for the following: Jammu and Kashmir, Ladakh.
Kerala High Court is for Jurisdiction for the following: Kerala, Lakshadweep
Madras High Court is for Jurisdiction for the following: Tamil Nadu, Puducherry
Punjab and Haryana High Court is for Jurisdiction for the following: Chandigarh, Haryana, Punjab
List of High Courts in India
Other Important Recruitments related to Law and Legal Jobs in India:
List of Websites of All High Courts of India