High Court Recruitment 2021 for Jobs and Vacancies in All High Courts of India. Get latest and upcoming Employment News and Jobs Notifications for High Court Vacancy 2021-22. Apply here for New vacancies in High Courts in India. Find current Job alert for High Court Jobs in all state governments in India.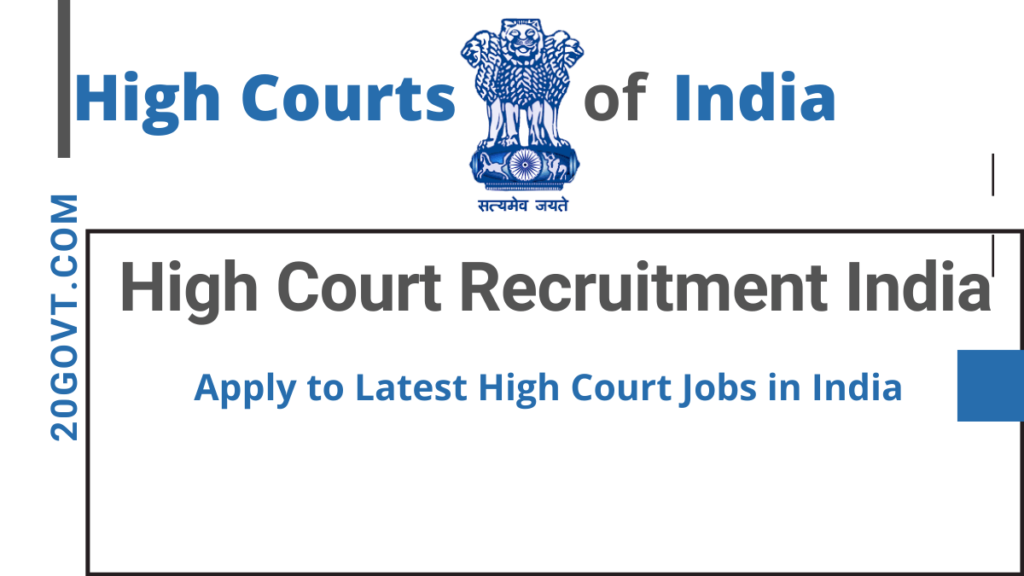 Here, on 20govt.com and its network sites, you will get here High Court Employment News and High Court Jobs Notifications for all kinds of vacancies, such as legal jobs, law vacancy, judicial positions, non legal vacancy, court help and support staff bharti, etc.
High Court Recruitments in India are open for all candidates: freshers and experienced, male and female candidates. You may notice here High Court (HC) jobs based on your educational qualifications and work experience. This is a Special and super space for getting fast and speedy News for all High Court Jobs and Vacancies in the country for 2021-22.
We will provide you with the information as per your qualifications, related to every recruitments going on in all of the high courts of India. Such as:
High Court Recruitment for 5th pass, 8th, 10th or Matriculation, High School pass, Higher Secondary, Intermediate, 10+2 or 12th pass, Under-graduates, graduates, diploma and degree holders, Freshers, Commerce, B.com, M.Com, Law degree, LLB, LLM, social science, and jobs by qualifications as mentioned here. 
---
You may want to check more government jobs 2021 in various govt Sectors in India and for all state wise jobs in government of India you should visit here to get all the latest jobs notifications and Employment News about State Govt Vacancy going on in different Departments of the State Governments of the nation. Apart from High Court Department, you may find other government job alert 2021 by visiting the link.

Related Job: District Court Jobs and Recruitment in India for jobs in all district courts.
---
We will provide you information for every recruitments in all of the high courts of India. Such as:
High Court Recruitment for Civil Judge, Clerks, Copyist, Typist, Translator, Law Clerks, Private Secretary, Stenographer, Steno Typist, Amen, Judicial Assistant, Junior Judicial Assistant (JJA),  Research Assistants, Legal Researchers, Peon, Safaiwala, Gardner, Process Server, Drivers, Cook, Attendants, and other 4th Grade Employees. 
High Court Recruitment 2021-22: Employment News Notifications for all Latest Jobs Vacancies in High Courts in India:
You will find below a listing of all High Court Jobs for which the recruitment is still open and you may apply. Apply here to latest high court jobs in India.
High Courts of India: an Introduction
The high courts of India are the principal civil courts of original jurisdiction in each state and union territory. The Calcutta High Court is the oldest high court in the country, established on 2 July 1862.
Each state is divided into judicial districts presided over by a district and sessions judge. He is known as district judge when he presides over a civil case, and session's judge when he presides over a criminal case. He is the highest judicial authority below a high court judge.
Judges in a high court are appointed by the President of India in consultation with the Chief Justice of India and the governor of the state. High courts are headed by a chief justice. The chief justices rank fourteenth (within their respective states) and seventeenth (outside their respective states) on the Indian order of precedence.
The buildings of Bombay High Court and Punjab and Haryana High Court are UNESCO World Heritage Sites.
The Madras High Court in Chennai, Bombay High Court in Mumbai, Calcutta High Court in Kolkata and Allahabad High Court in Prayagraj are the oldest four high courts in India. There are a total of 25 High courts in India.
Name of the High Courts in India which have more than one area of Jurisdiction:
Bombay (Mumbai) High Court is for Jurisdiction for the following: Goa, Dadra and Nagar Haveli and Daman and Diu, Maharashtra
Calcutta (Kolkata) High Court is for Jurisdiction for the following: Andaman and Nicobar Islands, West Bengal
Gauhati High Court is for Jurisdiction for the following: Arunachal Pradesh, Assam, Mizoram, Nagaland.
Jammu and Kashmir High Court is for Jurisdiction for the following: Jammu and Kashmir, Ladakh.
Kerala High Court is for Jurisdiction for the following: Kerala, Lakshadweep
Madras High Court is for Jurisdiction for the following: Tamil Nadu, Puducherry
Punjab and Haryana High Court is for Jurisdiction for the following: Chandigarh, Haryana, Punjab
Other Important Recruitments related to Law and Legal Jobs in India: