District Court Recruitment 2023 for Govt Jobs in District Courts across India. Get here Latest Jobs Notification for District Court Vacancies for 2023. Find Upcoming and Current Jobs in Indian District Court Recruitment 2023. Find Employment Job Alert for district court jobs vacancies in all state governments. Get Career News for District Court Recruitment 2023-24.
The basis job posts in district courts are fulfilled through direct recruitment. The vacancies are for entry level or help staff, such as: Sweeper, Peon, Process Server, Stenographer, Typist, Hindi Typist, Translator, Chowkidar, Clerk, etc.
The general qualifications for such positions is: 5th pass, 8th pass, 10th/12th pass, graduation, etc.
There are a total of 672 district courts in India. The state wise list of district courts has been given below for your reference.
---
District Court Jobs in India: Salient Points
District Court Jobs in India 2023-24: District Court Recruitments for Govt Jobs in various District level courts in all states and UTs of India.
Get Latest Jobs Notification for District Court Bharti for 4th grade, Group 'C', Group 'B', Group 'A' Posts.
Find PDF Notification, Job Application Form, Last date to Apply, Court website link, Direct online apply links (if any), Exam date, results, admit card/call letter, final selection list for district court Bharti.
Find Job Alert for reservation based employment opportunities for SC/ST, OBC, Ex-servicemen, Sports quota, PWD (Persons with Disabilities), Retired employee vacancies in District Courts.
Get Career News for 8th, 10th, 12th pass, graduate, freshers in District Court Jobs Recruitment 2023-24.
District Court Jobs for legal and law degree holder graduates.
District Court Jobs for Freshers and Experienced candidates.
District Court Contractual and Regular/Permanent jobs.
Apply online for latest District Court Jobs for 2023-24 on eCourt Websites at https://districts.ecourts.gov.in
---
District Court Recruitment 2023- Apply Online for Upcoming Jobs in District Courts in Indian States @ https://districts.ecourts.gov.in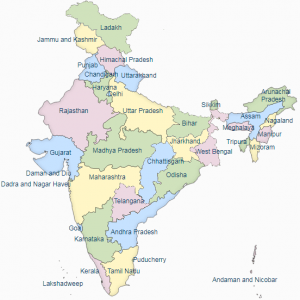 This page has been created for the candidates who are looking for jobs in District courts anywhere in India. This could be your one stop online employment news paper for latest Sarkari Naukri in all district courts in Indian state governments. Here, you will find the most recent jobs Notifications for district court vacancies in state governments of India. Through the newly setup ecourt websites the whole recruitment process has become quite easier, but it is still not an easy task for a normal candidate to search and locate the vacancies on a right place. That's why we have published this page to help candidates in many ways.
First of all, you wont have to search or browse extensively to discover the right job recruitment at the right time for district court vacancies.
There is a good number of vacancies in district courts where you need to fill up an online application to apply successfully for a recruitment. In this case we will provide you the exact links to apply online so that you never miss any chance to apply for any district court recruitment in Indian states.
Apart from district court, we will provide you information on how to apply for high court jobs, sessions court jobs, or supreme court jobs in India.
The recruitments in district courts are done through many ways, for example: direct recruitment, UPSC, PSC, SSC, etc. Whatever it may be you will get all the required details from us here.
The commonly needed qualifications for district court jobs are: 5th/7th, 8th, 9th, 10th, 12th pass,  Graduate/ Graduation, Diploma/Degree holders, LLB, LLM, Post Graduation (PG), etc.
Month Salary : For a basic profile in any district court in India, the monthly salary* range goes from Rs 15000 to Rs 21000.
* This is a very rough estimation, please check a particular notification to know the exact salary of a job profile.
| | |
| --- | --- |
| Apply for Latest Jobs in District Court: | Apply Now |
Latest and Upcoming Govt Job Notifications for District Court Recruitment in Indian States: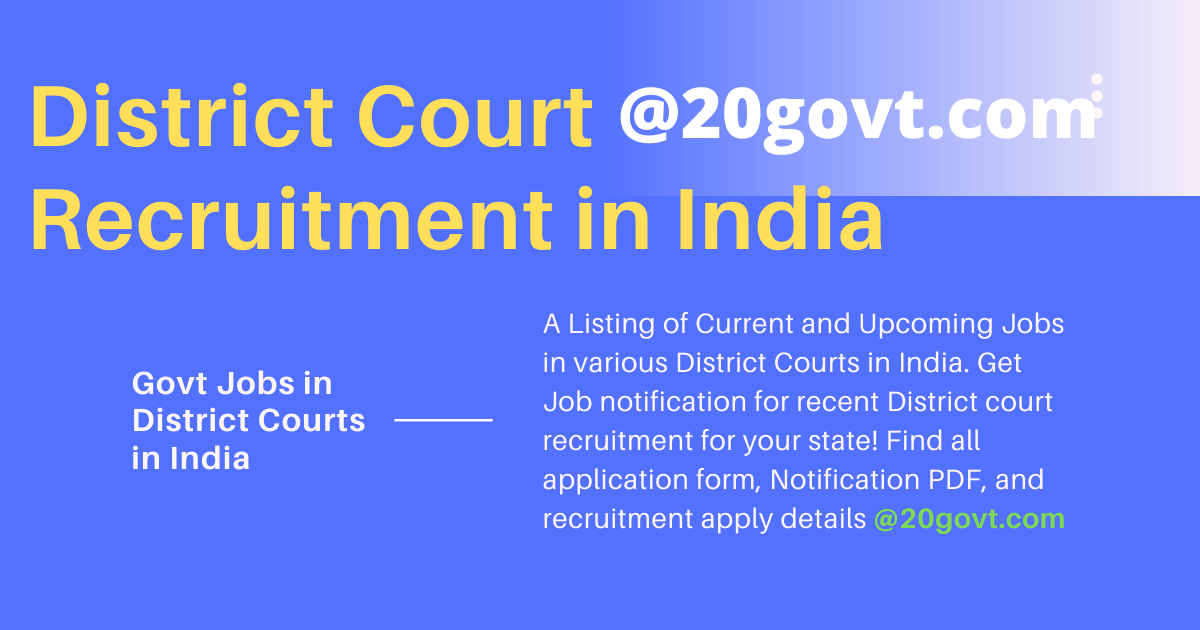 A Listing of Current and Upcoming Jobs in various District Courts in India. You are invited to get jobs notification for recent district court recruitment for your state! Find an application form, Notification PDF, and recruitment apply details for District court jobs in India @20govt.com. For more kinds of government jobs, don't forget to check our daily job alert page here.
Latest Govt Recruitment for Jobs in District Courts in India for 2023-24:

Get here daily Job Alert for State Wise Sarkari Naukri in various District Courts in India. Visit Employment News for Statewise District Court Jobs in India for 2023-24:

District Court Name and Recruitment Link:
Last Date to Apply:

Bajali District Court Recruitment 2023: Apply here 

Apply for Peon, Chowkidar Jobs for 07 Vacancies for 4th Grade Bharti for 8th Pass outs

24th Jan 2023

Bankura District Court Recruitment 2023: Apply here 

Apply for Para Legal Volunteer Jobs for 43 Vacancies for 10+2 pass outs

20th Jan 2023

Mahoba District Court Recruitment 2023

Head Assistant 02
Senior Assistant 13
Junior Assistant 12
Stenographer Grade-III 07
Stenographer Grade-II 01
Class IV 10

12th Jan 2023

Auraiya District Court Recruitment 2023

: Apply for Latest Jobs in Auraiya Court for Senior Assistant Position for 30 Vacancies.

6th Jan 2023
Gurgaon Court Recruitment 2023|

Apply for Clerk Jobs for Freshers in Gurugram, Haryana; 13 vacancies for B.A, B.Sc, B.Com qualified candidates.

15th Dec 2023
Jagatsinghpur District Court Recruitment 2023|

Apply for Junior Clerk cum Copyist, Stenographer and Other Jobs

06 Sep 2023
Angul District Court Recruitment 2023|

Apply for Junior Clerk and Copyist, Junior Typist Jobs

01 Sep 2023
Sambalpur District Court Recruitment 2023|

Apply for Peon/ Orderly Jobs

30 Aug 2023
Kendrapara District Court Recruitment 2023|

Apply for Junior Clerk cum Copyist, Stenographer and & Other Jobs

30 Aug 2023

Malkangiri District Court Recruitment 2023|

Apply for Junior Clerk and Copyist, Junior Typist Jobs

27 Aug 2023
District Court Kalahandi Recruitment 2023|

Apply for Junior Clerk Junior Typist Jobs

27 Aug 2023
District Court Deogarh Recruitment 2023|

Apply for Junior Clerk and Copyist, Junior Typist Jobs

27 Aug 2023
District Court Mayurbhanj Recruitment 2023|

Apply for Junior Clerk and Copyist, Stenographer Jobs

26 Aug 2023
Ganjam District Court Recruitment 2023|

Apply for Junior Clerk/ Copyist & Junior Typist & Other Jobs

22 Aug 2023
Dhenkanal District Court Recruitment 2023|

Apply for Junior Clerk & Copyist, Stenographer Jobs

19 Aug 2023
Gajapati District Court Recruitment 2023|

Apply for Junior Clerk & Copyist Typist Jobs

06 Aug 2023
District Court Jharsuguda Recruitment 2023|

Apply for Junior Clerk and Copyist, Junior Typist Jobs

04 Aug 2023
Kandhamal District Court Recruitment 2023|

Apply for Junior Clerk and Copyist, Junior Typist Jobs

03 Aug 2023
Puri District Court Recruitment 2023|

Apply for Junior Clerk and Copyist, Junior Stenographer Jobs

03 Aug 2023
Sundargarh District Court Recruitment 2023|

Apply for Junior Clerk & Copyist Typist Jobs

30 Jul 2023
District Court Nayagarh Recruitment 2023|

Apply for Stenographer, Junior Clerk and Junior Typist Jobs

30 Jul 2023
Bargarh District Court Recruitment 2023|

Apply for Junior Clerk and Copyist, Stenographer Grade-III Jobs

30 Jul 2023
Boudh District Court Recruitment 2023|

Apply for Junior Clerk/ Copyist, Junior Typist and Stenographer Grade-III Jobs

30 Jul 2023
District Court Nabarangpur Recruitment 2023|

Apply for Stenographer, Junior Clerk and Jr Typist Jobs

22 Jun 2023
Keonjhar District Court Recruitment 2023|

Apply for Junior Clerk, Stenographer and Junior Typist
Jobs


13th Jun 2023
Jhargram District Court Recruitment 2023|

Apply for LDC, Peon and Other Jobs

10th Jun 2023
District Court Mayurbhanj Recruitment 2023| 

Apply for TGT Arts, Hindi Teacher Jobs

12th May 2023
District Session Court Balangir Recruitment 2023|

Apply for Junior Clerk, Junior Typist Jobs


22nd April 2023
District Court Jobs 2023 in India: State Wise District Court Jobs Listing
Click any link to find district court jobs in that state or Union Territory. Along With the links we have also mentioned the number of district courts in that state or Union Territory. Find below court jobs as well as a List of State Wise Number of District Courts in India:
Andhra Pradesh District Court Recruitment and Notification Listing:
Assam District Court Recruitment and Notification Listing:
Bihar District Court Recruitment and Notification Listing:
Haryana District Court Recruitment and Notification Listing: