Indian Army TES 44 2022 for 10+2: Indian Army Technical Entry Scheme Notification for 10+2 TES. Army TES (44 Course) Course to Join Indian Army as an Officer. TES 2022. Army TES Course for 12th Pass with PCM. TES 44 Course Notification. Latest & Upcoming Indian Army TES Notification for 12th pass candidates to become an Officer in Indian Army.
Apply Online for Indian Army TES 44 Course to Join Army
If you are 12th pass with PCM (Physics, Chemistry, Maths) 70% minimum marks and are Unmarried Male then you can apply to join Indian Army as an officer or Lt rank. Joining Army as an Officer is like a dream coming true for the candidates who successfully get placed in its TES course and get grant of Permanent Commission in the Army.
So, if you are minimum 12th pass and in the age group of 16.5 to 19.5 yrs then you can apply for getting entry through TES for earning an engineering degree and getting in the rank of Lieutenant in the Indian Army. A Lieutenant is the junior most commissioned officer in the armed forces.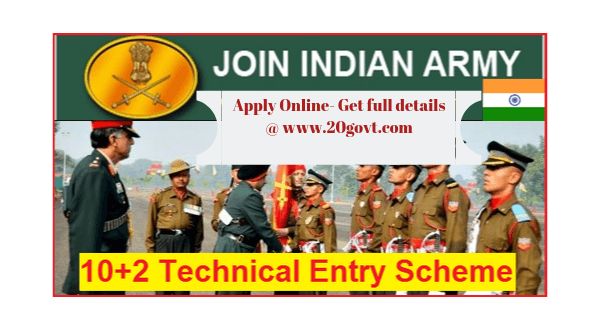 For other types of Jobs in Indian Army you should subscribe our free job alerts here for Army Jobs in India. [ Visit here to Join Indian Army Recruitment and here for Defence Jobs Vacancies]
Indian Army comes under the Ministry of Defence in the government of India. Indian Army is one of the three main parts of the Indian defence department.
Like other departments and forces, Indian Army is also further divided in other forms and types. For example, Border Security Force, ITBP, Territorial Army, etc also come under Indian Army and they are Integral parts and work together in coordination in the time of need.
Latest and Upcoming Recruitment Job Vacancies To apply Online for Jobs in Indian Army and Defence Services:
---
Indian Army Technical Entry Scheme (TES) 2022 for 10+2/12th Pass
Indian Army TES 44 Recruitment notification regarding filling of 10+2 TES Course Online Form Job Vacancies. The Defence Jobs application online from eligible candidates having 12th qualification. These 10+2 TES Course 44 Online Form 2022 are in the Indian Army, New Delhi, Delhi. The 10+2 job applications for Indian Army Jobs 2022 will be accepted online on or before There are 90 vacancies for TES 44 course for 2022.
Qualification to Apply for Indian Army Technical Entry Scheme 2022 (44 TES Course)
Only those candidates who have passed 10+2 Examination or its equivalent with a minimum aggregate of 70% marks in Physics, Chemistry and Mathematics from recognized education boards are eligible to apply for this entry. Eligibility condition for calculating PCM percentage of various state /central boards will be based on marks obtained in Class XII only.
Age for Indian Army TES 44 Course for 12th Pass
Candidates should be between 16½ years and above 19½ years.
Pay Scale – Indian Army TES 2022 Online Form for TES 44
| Indian Army Technical Entry Scheme 2022 RANK | Pay Level in Pay  |
| --- | --- |
| Lieutenant | Pay Level 10; Rs.56,100-1,77,500  |
| Captain  | Pay Level 10B, Rs.61,300-1,93,900 |
| Major | Pay Level 11, Rs.69,400-2,07,200 |
| Lieutenant Colonel | Pay Level 12A, Rs.1,21,200-2,12,400 |
| Colonel | Pay Level 13, Rs.1,30,600-2,15,900 |
| Brigadier | Pay Level 13A, Rs.1,39,600-2,17,600 |
| Major General | Pay Level 14, Rs.1,44,200-2,18,200 |
| Lieutenant General HAG Scale | Pay Level 15, Rs.1,82,200- 2,24,100  |
| Lieutenant General HAG + Scale | Pay Level 16, Rs.2,05,400-2,24,400 |
| VCOAS/ Army Cdr/ Lieutenant General (NFSG) | Pay Level 17, Rs.2,25,000 (fixed) |
| COAS | Pay Level 18, Rs.2,50,000 (fixed) |
How to Apply – Indian Army TES 44 Course
Candidates can apply online for Indian Army Technical Entry Scheme 2022 on before 09 Sep 2022.
Date for Indian Army TES 44 Course 2022-21
Selection Process/Procedure for TES Course 44 ( starting in July 2022)
The final selection to TES course 44 will be made on the basis of SSB Interview followed by medical checkup. The course will start from July 2022. 
[Selection Process – Indian Army Technical Entry Scheme for 10+2]
♠ The selection process starts with shortlisting of applications. The shortlisting of applications is based on cut off percentage applied as decided. After shortlisting, the candidates are allotted selection center. After allotment of Selection Centre, candidates will have to log in to the website joinindianarmy.nic and select their SSB (Service Selection Board) dates on a first come first serve basis.
♠ Only shortlisted eligible candidates will undergo Service Selection Board) SSB Interview at one of the Selection Centres. There are 4 selection centers, as follows: Allahabad (UP), Bhopal (MP), Bengaluru (Karnataka) and Kapurthala (Punjab). Candidates will be tested by Psychologist, Group Testing Officer and Interviewing Officer.
♠ Candidates will be put through two stage selection procedure. Those who clear Stage I
will go to Stage II. Those who fail in Stage I will be returned on the same day. SSB Interview goes on for 5 days. The details are available at Indian Army Recruitment Website www.joinindianarmy.nic.in. This will be followed by a medical examination for the candidates who get recommended after Stage II.
♠ Candidates recommended by the SSB and declared medically fit, will be issued joining letter for training in the order of merit, depending on the number of vacancies available (90 seats available for TES course 44).