IIT Recruitment 2021. Get Latest Jobs Notification for IIT Career Vacancies 2021. Find Upcoming, Current Jobs in Indian Institutes of Technology Recruitment. Find Employment Job Alert for All IITs- Indian Institutes of Technology. Get All New Career News for IIT Bharti and Recruitment 2021-22 @IITs official websites.
---
IIT Recruitment 2021- Latest IIT Jobs Vacancy in Indian Institutes of Technology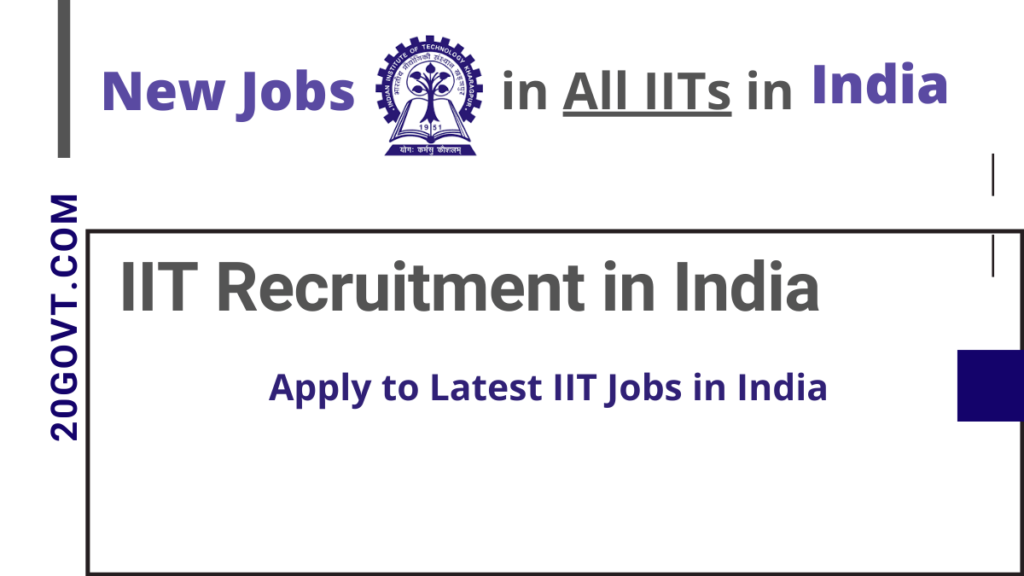 The Notification is being published for the candidates who are awaiting to Apply Online for Indian Government Jobs. You can get here direct official notification and PDF links for applying for the Job Vacancies for Indian Institutes of Technology Recruitment. Apart from the IIT, you can get here official Notification updates for other government Departments in India for the year 2021-22.
Monthly Salary: Salary range for a basic profile in IIT goes from Rs 30000 to Rs 50000
Apply here for Careers and Jobs in Indian Institutes of Technology (IIT):  Apply for Central Government Jobs for 
Graduate/Graduation
,  
Diploma/Degree
 holders, 
B.E/Btech
/M.Tech,
MCA
, B.Sc, M.Sc, Computer Science, Post Graduation (PG), and PhD Degree holders. IIT Jobs are related to various technical and non-technical, teaching and non teaching job profiles. You can expect various recruitment in IITs for project and research jobs in India in govt sectors.
Candidates who have cleared CSIR, GATE, or any other exams may lookout for suitable jobs in IIT institutes in India. Though, if you are looking for faculty jobs in any IIT then you may apply anytime as there are several rolling or standing advertisements going on for that.
Common Job Positions for IIT recruitment: Junior Research Fellow(JRF), Senior Research Fellow(SRF), Project Fellow, Project Assistant, Project Associate, Project Manager, Research Fellow, Research Associate, Research Assistant, Associate Professor, Professor, Assistant Professor, Consultant, Scientist, etc.
IIT Jobs 2021: Latest Recruitment Vacancies in All IIT Institutes in India:
And, don't forget to check our dailyjobalert page here for Latest Government jobs in India for all industries, domains, and sectors.
If you are searching for Projects and research jobs in India then visit this page for Latest Research Project Jobs in India.
Name of IIT Recruitment
Last date to Apply Online
IIT Dharwad Recruitment 2021: Apply for JRF Vacancy through walkin Interview basis selection.
22nd May 2021
IIT Gandhinagar Recruitment 2021 for Post-Doctoral Fellow 01 Vacancy Ph.D  in a relevant subject, mathematics,  Engineering or physics
21 May 2021
IIT Gandhinagar Recruitment 2021 for JRF and Project Assistant 01 Vacancy B.Tech, B.E. in Mechanical, Electrical , Aerospace , Biomedical Engineering

20 May 2021
IIT Ropar Recruitment 2021 for JRF/ Project Assistant 01 Vacancy B.E,B.Tech in Computer Science and Engineering.
14 May 2021
IIT Mandi Recruitment 2021  for Technical Officer, Sports Officer & Other Jobs 43 Vacancy Master Degree,

B.Tech.



04 June 2021
IIT Gandhinagar Recruitment 2021 for Research Associate  01 Vacancy PhD in any branch of Engineering.
15 May 2021
IIT Delhi Recruitment 2021 Latest Jobs in IIT ISM Dhanbad for Research Associate Posts for 01 vacancies.
31st May 2021
IIT ISM Dhanbad Recruitment 2021 Latest Jobs in IIT ISM Dhanbad for Accounts Executive / Jr. Technical Superintendent (MIS) / Software Developer/ Web Designer Posts for 21 vacancies.
20th May 2021
IIT Jodhpur Recruitment 2021 for JRF Jobs for  B.E./ B.Tech. in a relevant discipline such as Chemical Engineering, Materials Engineering, Polymer Science & Engineering, Electrical Engineering, Packaging Engineering, etc and NET/ GATE qualified.
11th May 2021

IIT Roorkee Jobs for JRF Vacancy 2021: IITR Jobs for Junior Technical Superintendent (01) Asst. Security Officer (Group B, 01) Coach (06) Junior Superintendent (Group-B,31)  Junior Superintendent Raj Bhasha (Group-B, 01) Pharmacist (01), Junior Lab Assistant (52) Junior Assistant (39), and Driver Grade-II (01) Vacancy for a Total Post of 133.

M.Sc. in (Electronics/ Computer Science/ Chemistry/ Physics) or B.E/B.Tech and B.Sc, Graduates, Post Graduate, Degree Holders and 12th pass (driver) apply

11th May 2021
IIT Ropar Recruitment 2021 for JRF 01 Vacancy B.E,B.Tech in Electrical Engineering with min 70% to 65% marks.
07 May 2021
IIT Delhi Project Recruitment 2021 Apply for Various Jobs, such as:

Research Associate for Candidate should have First class PhD.
Project Associate Jobs.
Senior Research Fellow Jobs
Project Scientist
Project Manager
Junior Project Attendant Job for Graduates.
CEO 01 vacancy for Masters (Ph.D. preferred) degree in any field of science, technology, engineering, business, or quantitative social sciences. 12+ years of professional work experience in research, innovation, technology development, strategy, marketing and business development.

29th April 2021 – 6th May 2021
IIT Indore Recruitment 2021 for Research Associate Jobs for 01 vacancy for Ph.D degree holders.
30th April 2021
 IIT Madras Recruitment 2021 for Manager Jobs for 02 vacancies for Master's Degree in Education, Business Management, Hotel/Hospitality Management, Human Resource Management, Business Administration, Communication, Computer Applications, Social Science, Business, Marketing or related fields and 5 yrs experience.
30th April 2021
IIT Gandhinagar Recruitment 2021 for Assistant Engineer (B.E,B.Tech in Electrical Engineering), Junior Engineer (3 yrs Diploma Civil/ Electrical Engineering), Research Associate/Postdoctoral

Vacancy for PhD degree in Mathematics.

30 April 2021
IIT Guwahati Recruitment Jobs Vacancy 2021: Apply for Apply for Senior Research Fellow & Junior Research Fellow Jobs
30th April 2021
IIT Hyderabad Recruitment 2021 for Research Associate for PhD degree holders. Ph.D in only Psychology, Public Health, Nursing or Allied Health Fields (e.g., Health Communication)
29th April 2021
IIT Kanpur Project Associate Recruitment 2021 Apply online for Apply for Project Post-Doctoral Fellow Jobs.
26th April 2021
IIT Bombay Recruitment 2021: Apply online for Full time Medical Officer jobs for 01 vacancy for MBBS degree.
26th April 2021
IIT Kharagpur Recruitment 2021 for Junior Research Fellow Jobs for 01 Vacancy for should have acquired Marks in B.Tech, X, XII >= 80% / 7.5 CGPA with valid GATE/NET score
25th April 2021
IIT BHU Recruitment 2021: Apply Online for Junior Research Fellow Jobs for 01 Vacancy for Master's degree in CSE/IT/ECE in the discipline concerned or in an allied discipline and min 60% marks and NET/ GATE.
15th April 2021
List of Total IITs in India:
There are 23 IITs in India as of now. Here is the List of all the IITs in India:
IIT Kharagpur 1951.
IIT Bombay 1958
IIT Madras 1959
IIT Kanpur 1959
IIT Delhi 1961
IIT Guwahati 1994
IIT Roorkee 2001
IIT Ropar 2008
IIT Bhubaneswar 2008
IIT Gandhinagar 2008
IIT Hyderabad 2008.
IIT Jodhpur 2008
IIT Patna 2008
IIT Indore 2009
IIT Mandi 2009
IIT (BHU) Varanasi 2012
IIT Palakkad 2015
IIT Tirupati 2015
IIT Dhanbad 2016
IIT Bhilai 2016
IIT Goa 2016
IIT Jammu 2016
IIT Dharwad 2016
All Recruitments and Job Alert for All IITs in India:
Official Websites of Indian Institutes of Technology (IITs):
| | | |
| --- | --- | --- |
| IIT, Kharagpur Website: http://www.iitkgp.ac.in | IIT, Delhi Website: http://www.iitd.ac.in | IIT, Guwahati Website:  http://www.iitg.ac.in |
| IIT, Chennai Website: http://www.iitm.ac.in | IIT, Kanpur Website: http://www.iitk.ac.in | IIT, Mumbai Website: http://www.iitb.ac.in |
| IIT, Roorkee Website: http://www.iitr.ac.in | IIT, Gandhinagar Website: http://www.iitgn.ac.in | IIT, Hyderabad Website: http://www.iith.ac.in |
| IIT, Indore Website: http://www.iiti.ac.in | IIT, Mandi Website: http://www.iitmandi.ac.in | IIT, Patna Website: http://www.iitp.ac.in |
| IIT, Ropar Website: http://www.iitrpr.ac.in | IIT, Jodhpur Website: http://www.iitj.ac.in | IIT, Varanasi Website: http://iitbhu.ac.in |
| IIT, Jammu Website: http://iitjammu.ac.in | IIT, Palakkad Website: http://iitpkd.ac.in | IIT, Tirupati Website: http://iittp.ac.in |
| IIT, Goa Website: https://www.iitgoa.ac.in | IIT, Bhilai Website: https://www.iitbhilai.ac.in | IIT, Dharwad Website: http://www.iitdh.ac.in |
| IIT, Dhanbad Website: http://iitism.ac.in | | |